KOSMOS LAB'19: BLACK BOX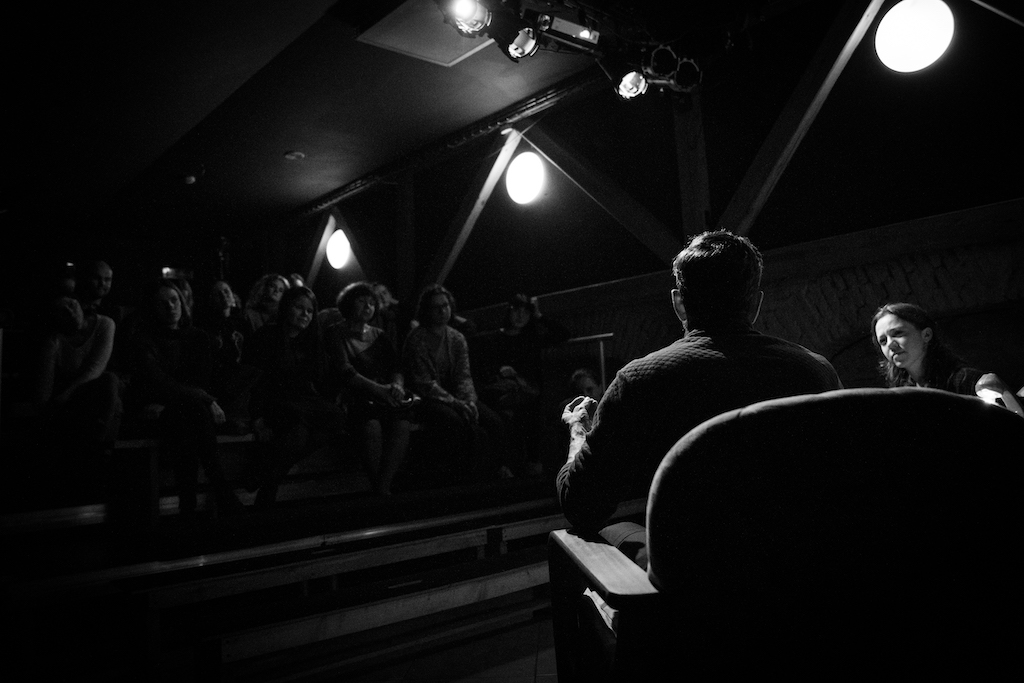 VIDEO PROJECTIONS, PUPPETRY AND BODY DRAMATURGY
KOSMOS THEATRE LAB'19 is the first visual theatre laboratory in Lithuania that focuses on development of professional artists. In 2019 edition laboratory was focused on black box. We invited international and Lithuanian masters to exchange their knowledge of acting abilities with video projections, puppetry and body dramaturgy. From 57 professional applicants independent jury selected 21 artist. We divided them into 4 groups and began their journey in three stages: masterclasses, creative workshops and showcase.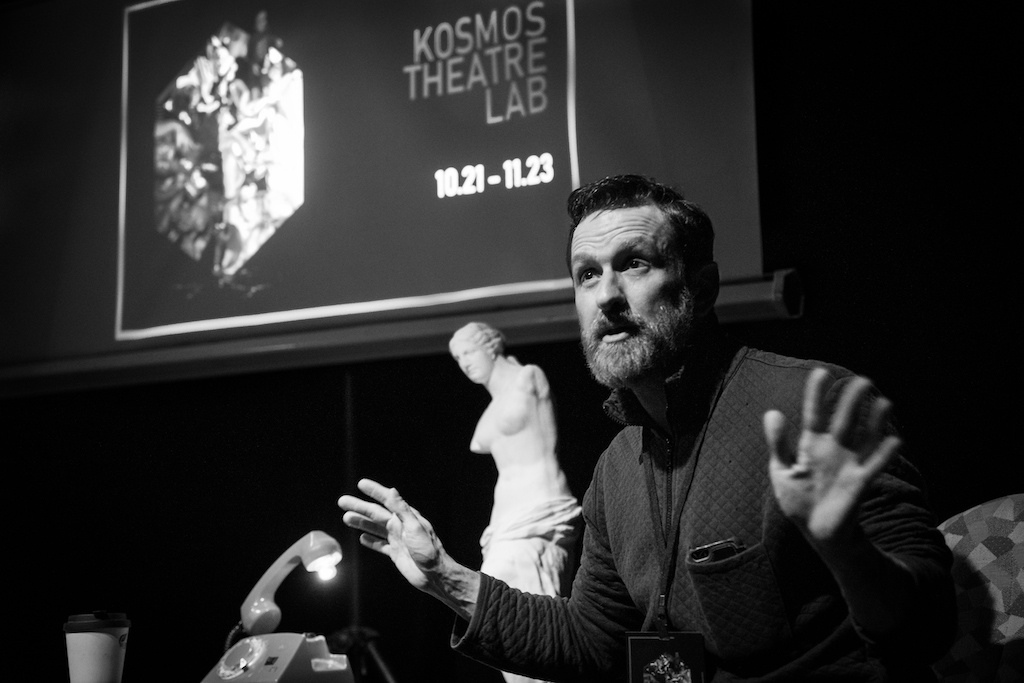 PUPPETRY MASTERCLASSES WITH DUDA PAIVA
This first part of the workshop participants were attending masterclasses which was lead by one of the most famous world puppeteer and puppet theatre pedagogues and directors Duda Paiva.
Duda Paiva is a Dutch-Brazilian director, choreographer and sculptor, who started his career as a dancer.

Duda Paiva developed a recognizable signature (the Object Score) in the past fifteen years. This technique has not gone unnoticed internationally. He is therefore a popular director, teacher and coach and practices these three roles worldwide.

Duda Paiva Company (DPC) is the company around Duda Paiva. The company creates theatre with a cross-over of dance and puppetry. The manipulation technique – through which the puppets (sculptures made of foam) come to life – finds its foundation in dance. From that essence, a choreography (the Object Score) is formed for dancer and puppet, which is widely studied by the company.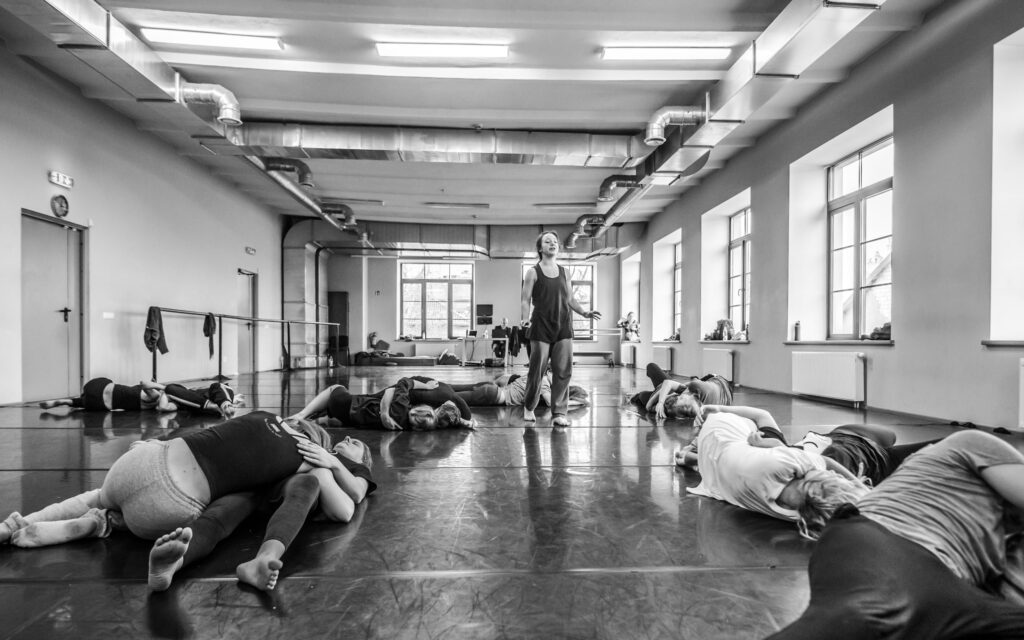 BODY DRAMATURGY & ACTING WITH VIDEO PROJECTIONS
Choreographer- dancer Goda Žukauskaitė, well know video and visual artists Rimas Sakalauskas, Kornelijus Jaroševičius and Mikas Žukauskas, Lithuanian theatre director and dramaturge Žilvinas Vingelis and puppet theatre pedagogue, director Rimas Driežis. In these masterclasses artists improved their professional skills in fields such as acting with projections, movement dramaturgy and acting with the puppet. Most of all, they were creatively searching for new and unexpected video, puppet, object and movement theatre forms that goes within the frame of the Visual theatre.
KOSMOS LAB'19 SHOWCASE
The last part of the KOSMOS THEATRE LAB'19 was the SHOWCASE. In this event we presented 4 visual theatre experiments created in three weeks by the teams created from the workshops. KOSMOS THEATRE LAB'19 SHOWCASE was presented at the Church of the Blessed Virgin Mary and Oskaras Koršunovas Theatre.  
"How are you" | Dir. M. Remeikaitė | KOSMOS LAB'19
Work in progress work is inviting to with easy and fun to think about what is luck. Also to look at it's ambivalence.
Director Miglė Remeikaitė
Designer Marina Jasinskaja
Projection designer Nidas Kaniušas
Composer Jokūbas Tulaba
Actors: Mindaugas Ancevičius, Goda Simonaitytė, Ieva Stašelytė ir Eglė Ukanytė
"Fury" | Dir. Ž. Vingelis | KOSMOS LAB'19
"It is the struggle of the body and the imagination against inner death, against dead life, against the masks of positivity and under the mask of righteousness. Two unfamiliar characters – a man and a girl in an uncertain space – unleash a Pandora's box of crippled and inspirational visions of the subconscious and hidden from the "normal" world."
Dreamer: Žilvinas Vingelis
Unconscious stage designers Dovilė Gecaitė, Oles Makukhin
Costume design: Akvilė Jančauskaitė
Forgotten music: Andrius Šiurys
Choreographers- Consultants Christina Batian and Ana Filipovič
Actors: Mindaugas Ancevičius, Goda Simonaitytė
"No Filter" | Dir. S. Pikturnaitė | KOSMOS LAB'19
Work in progress work is questioning reality and social media conflict- does the Instagram and Facebook filters for the modern society serves as a mask? Do we still want and are able to see what's beyond the filter?
Director Sigita Pikturnaitė
Designer Dalia Kiaupaitė
Actors: Rūta Kumpikaitė, Gabrielė Penčylaitė, Kristina Marija Kulinič ir Kristina Maurusevičiūtė
Dizziness | Dir. M. Ivanauskas | KOSMOS LAB'19
Creators and also ex-course mates team lets them self go to a dreamy ride, where even the simplest objects becomes teachers, signs and guides. By fallowing them they will be forced to experience their conciseness minds collapsed by the water, long forgotten memories or ….. a fishes head?
Director Motiejus Ivanauskas
Designer Liepa Gaidauskaitė
Composer Matas Saladžius
Actors: Marius Gotbergas, Saulė Sakalauskaitė, Kamilė Lebedytė and Povilas Jatkevičius
PARTLY FUNDED BY

---
PROJECT FRIENDS