LIVE MUSIC PERFORMANCE SONNY'S BLUES
---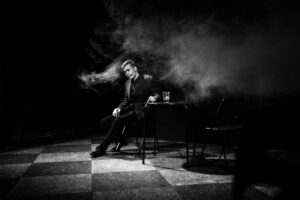 Sonny's Blues performance is based on contemporary drama piece written by Ž. Vingelis (2017 m.) created on James Baldwin novel "Sonny's Blues" motives. As Lithuania suffers from growing alienation, educational issues, social neglection of youngsters to choose an artist's career a rising director Žilvinas Vingelis (awarded with a best directing debut in 2017) with best young jazz performer Mantvydas (Vilnius Jazz Young Power award for best band and best standards interpretation 2017) gathered together to find an artistic approach to tell us a story of two brothers. Sonny choose to be a free-will artist. His brother lived a stereotypical lifestyle- a family, a house a 9 to 5 work. To unlock theirs psychoanalytical being the creative team colored their struggling relationship with surrealistic theatrical speech and energetic live professional music and sound manipulations.
---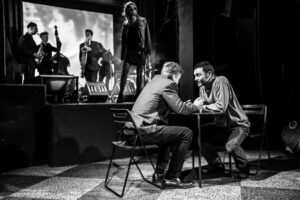 "Sonny's Blues" is a live music, dramatic acting, electronic music and sound manipulation theatrical collage. Creators seeks to research effects of music, memories, unconscious mind and dreams of our lives. The main goal of this performance is to ask ourselves: does the righter path of lifestyle exists?
"Sonny's blues" will transfer us to a middle-aged secondary school teachers mind. Dovydas Stončius (Sonny's brother) will travel throughout his memories and together with Matas Pranskevičius (Sonny) will try to solve a never ending brotherhood relationship. Meanwhile Sonny's jazz band will provoke spectators to look at their memories and question the truth of their reality. Video artist Kornelijus Jaroševičius together with Nidas Kaniušas will take us to Harlem's jazz club.
---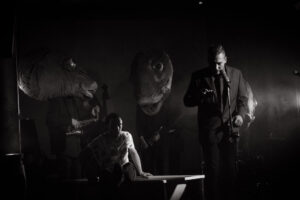 Sonny's Jazz Band has performed in the main jazz festivals in Lithuania such as "Vilnius Mama Jazz", "Kaunas Jazz", "Peronas Jazz". Furthermore they have been awarded as the best youngest jazz talents in "Vilnius Jazz Young Power" winning the "Grand Prix". The bands leader Mantvydas Pranulis is not only awarded as the best jazz performer and best jazz interpretation in "Vilnius Jazz Young Power" but also is a great composer and works in various jazz, electronic music, theatre, cinema and educational projects.
---
CREATIVE TEAM
Director, scriptwriter and stage designer Žilvinas Vingelis
Producer Darius Vizbaras
Costume designer Dovilė Gecaitė
Composer Mantvydas Leonas Pranulis
Sound design Algirdas Janonis
Video projections Kornelijus Jaroševičius & Nidas Kaniušas
Sound director Algirdas Drėma
Light design Anupras Jucius
Masks design Rūta Jankevičiūtė
Actors
Dovydas Stončius, Matas Pranskevičius, Inga Šepetkaitė
Sonny's jazz group
Kazimieras Jušinskas (saxophone), Arminas Bižys (saxophone),
Ignas Kasikauskas (drums), Dominykas Norkūnas (guitar),
Aurelijus Užameckis (Double-bass), Mantvydas Leonas Pranulis (piano)
Premiere December 6th, 2017
---