KOSMOS LAB'21: AKHE EDITION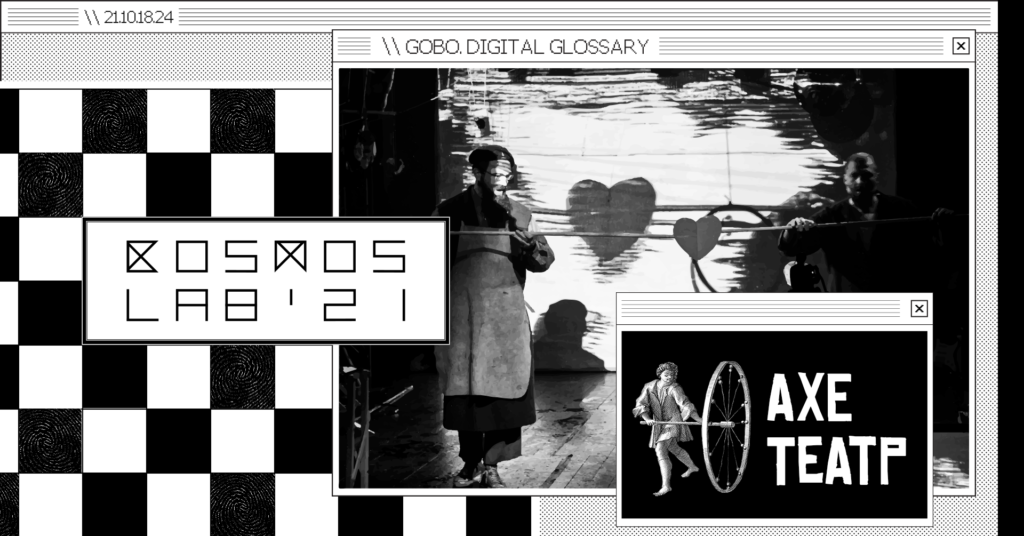 GOBO.DIGITAL GLOSSARY | AKHE (SANKT PETERBURG, RUSSIA) | KOSMOS LAB'21
KOSMOS LAB welcomes engineering theatre "AKHE" and their performance "Gobo. Digital glossary" in Vilnius Art printing house on 20th of October, 2021
Pathetical play-laboratory "Gobo. Digital glossary" is the collection of installations and mini-performanses in one piece. Organized into the clear structure they create in spectator this representation about Gobo (unexisting Hero, similar as Beckett's Godo, but authors of the show didn't mean obviouse connection) such we (audience) see him – naive and wounded. Pathetic and desperate. Sentimental and rash. For more clearly see Gobo we need to look at it through the tediously selected objects.
These objects are allowed for itself speak ironically apropos Gobo and they are the classical example of Nothing (no material things). So, arrow of illusory giant clock slowly scrolls around in the air proudly call itself like "Line of the Hero" and exploded heart – "Pain of the Hero".
To actors, charmed by this impudence, nothing it remains as it passed to the side of objects, imitating their rule of game. Entire construction of "Glossary" thus, it is converted into simulakr: the copy, which does not have original. But not absurdity, not gin'ol', not farce, but mystery – this performance are able to leave for us!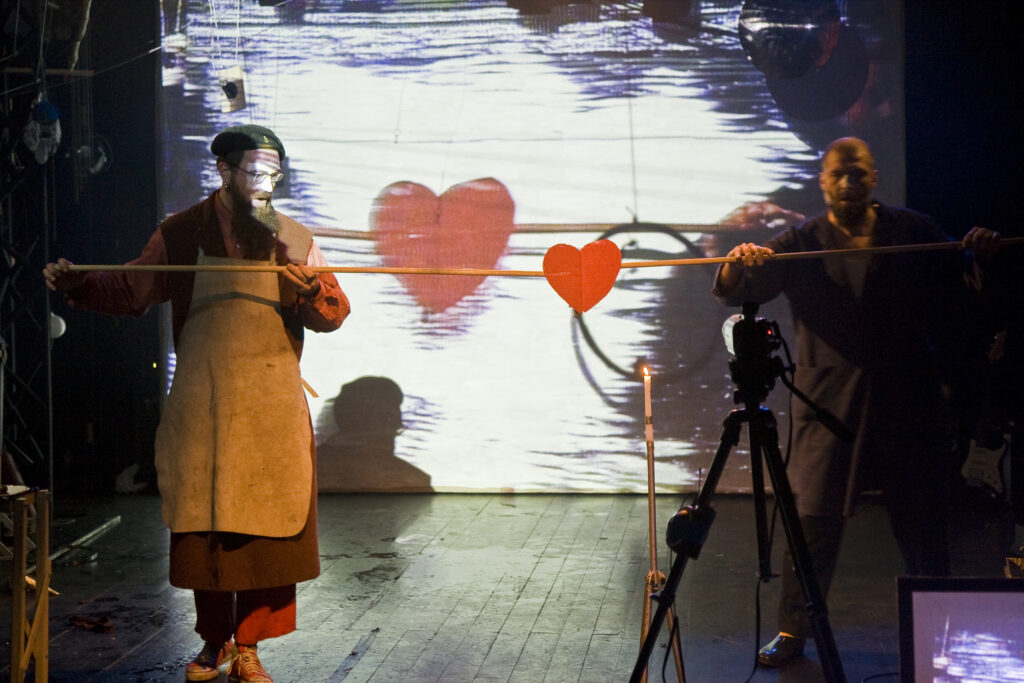 GOBO.DIGITAL GLOSSARY CREATIVE TEAM
Premiere: 2007
Genre: Graphic novel
Duration: 60 minutes
Direction: Yana Tumina
Perfroming: Maxim Isaev, Nik Khamov
Video: Michailov Oleg, Maria Nebesnaya
Light: Vadim Gololobov, Alexander Yurij Galkin
Sound: Andrey Sizintsev, Denis Antonov
Organizational support: Vadim Gololobov, Maria Tavapova
Learn more about AKHE THEATRE @ www.akhe.ru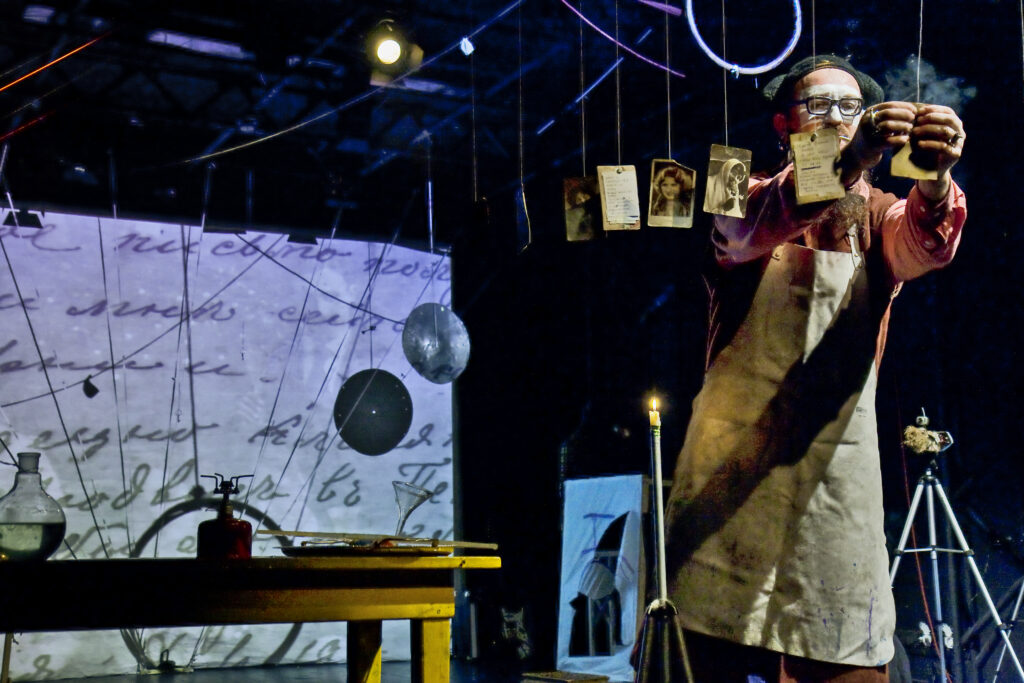 ---
PARTLY FUNDED BY

---
KOSMOS LAB'21: AKHE (SANKT PETERBURG, RUSSIA) | MASTERCLASS
---
In October 2021, the third experimental visual theater laboratory KOSMOS LAB'21 will start, the focus of which is the grand theaters of the theater, the winners of the Total Theater Award of the Edinburgh Fringe Festival, the engineering theater AKHE (St. Petersburg, Russia). AKHE is one of the world's most famous visual theater troupes, founded in 1989. The theater is directed by Maksim Isaev and Pavel Semtchenko. They are considered the pioneers of engineering theater, creating a unique visual language. Their performances stand out as a chaotic, non-sterile, stage expression of anarchist discourse based on metaphors and visual solutions. AKHE performances extend the term of visual theater through multimedia, video communication and interactive telecommunication capabilities, mega-sound, lasers and lights; while promoting technology and aesthetic visual impact. The troupe's work combines the fields of performance, film, theater, art and visual arts. Their work has been recognized at many international festivals.
2021 October 18-25 There will be professional mastery courses, in which we invite Lithuanian theater professionals to participate in joint work with the AKHE engineering theater. The commission of experts will select up to 15 professional theater creators for the workshops by public invitation, and the expected result of the course is a sketch of the performance, which in 2022. will be a performance created on the basis of co-production of KOSMOS THEATRE and AKHE.The KOSMOS LAB'21 program consists of:
1) October 19 "Gobo. Digital Glossary" performance by AKHE Engineering Theater (selected workshop participants will receive free invitations to the performance);
2) October 18-25. master classes at Vilnius Arts Printing House (8 hours / day). Creation of author's visual sketches of the teams participating in the workshop;
3) October 24. presentation of a sketch to which Lithuanian theater professionals will be invited;
APPlications are accepted until September 15, 2021.
Workshop participants will be made public on September 21st. www.kosmostheatre.com and on the Facebook account of the KOSMOS THEATRE social network. The participants of the workshop will be selected by the AKHE and KOSMOS THEATRE teams of the engineering theater. Only those persons who undertake to participate in all project activities may participate in the selection. Participants undertake to present a valid passport for the duration of all workshops before the start of the workshop.